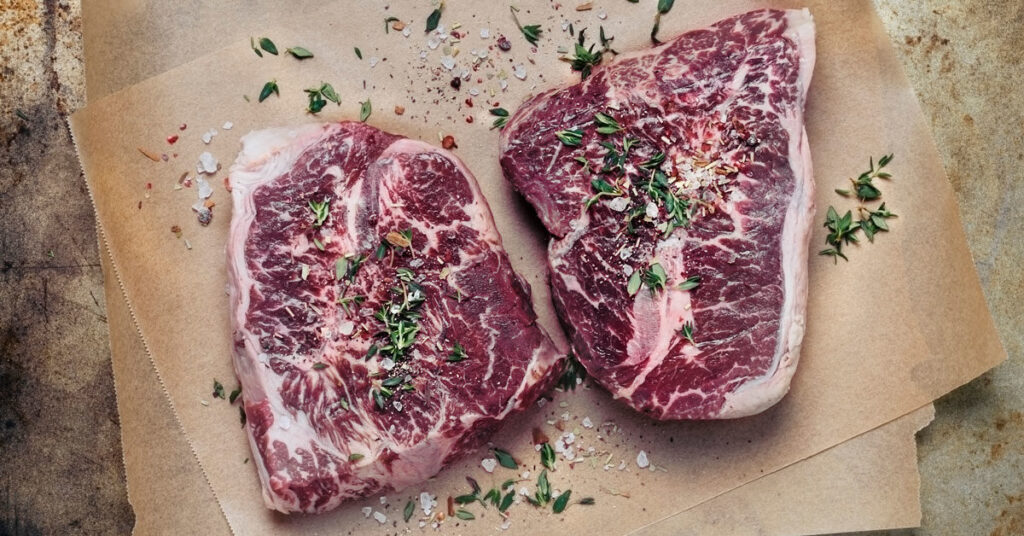 The Top Nutritional Benefits of Beef
With many popular diets that exclude meat circulating social media today, it can be confusing as to whether or not people really need to eat red meat. A quick Google search will no doubt bring up many conflicting opinions on this matter, so ultimately it's up to you to choose what you do with the information. Most health organisations agree that a moderate consumption of red meats like beef alongside other food groups is enough to achieve a healthy, balanced diet.
Generally, you should eat enough red meat to provide your body with some essential nutrients, but not too much that it becomes a health risk. Keep in mind that any advice found online is general only and that each person's individual lifestyle, energy needs, age, gender, and circumstances will affect the amount of red meat you can eat. Read on to find out more about the nutritional benefits of beef. 
The abundant nutrients found in red meat
Red meat is truly one of Mother Nature's gifts to us. Packed with macro- and micronutrients, this food option delivers a host of health benefits while being loaded with natural flavour. Here is a quick summary of the benefits each key nutrient found in red meats like beef provides:
Protein: Protein not only helps your body build and repair muscle, but it also boosts your metabolism and helps you stay fuller for longer. This means less snacking on unnecessary carbs between main meals, helping you reach your diet or health goals more easily.

Iron: Beef, like all red meats, contains haem iron that your body can easily absorb. Your body needs iron to effectively transport oxygen throughout your body. A lack of iron makes you feel lethargic and, left untreated, can lead to anemia.

Vitamin B12: Beef is one of the best foods with a rich source of vitamin B12. This vitamin benefits your entire body, from keeping your energy levels up to improving your eyesight, memory, and heart health.

Zinc: This nutrient is key in helping many of your bodily functions run smoothly, including your thyroid function, immune system, metabolism, and wound recovery times. Zinc is most easily absorbed by the body through the intake of animal proteins. 

Omega 3: While fish and plant oils provide the best sources of omega 3, you can also find these fatty acids in red meats like beef. Current research shows that a healthy dose of omega 3 in your regular diet can help manage and prevent many heart conditions. 
Some tasty ways to enjoy red meat
Many of the best dishes involve red meat. Sunday roasts, beef stews, stir fries, spaghetti Bolognese are just to name a few. You might even have a favourite childhood or kitchen meat dish that you default to every time you are cooking to impress! 
While we can't yet physically travel for leisure, the next best thing is travelling via your tastebuds: trying out a meat dish from a different country every other night right in the comfort of your own home. Red meat dishes are a flavoursome and easy way to quickly meet your iron and protein needs, as well as consume some other key vitamins and minerals. 
Even though we can all agree that beef is delicious, it isn't the only protein you can get creative in the kitchen with! Here are some ideas for easy, tasty mid-week meat dishes that you don't have to be a professional chef to throw together.
Thai beef green curry

One-pan lamb and cous cous

Spaghetti bolognese

Garlic and ginger pork with fried rice

Teriyaki beef and rice

Honey baked pork with salad

Coconut red curry with mutton 

Mongolian beef and noodles

Korean bbq pork and rice

Overnight braised beef stew 

Beef and broccoli with black pepper sauce
Needing a quick beefy fix?
While it's incredibly satisfying to sit down to a protein-packed bowl of beef stew, you don't always have time to cook. So if you ever find yourself in dire need of an energy boost (or craving a quick beefy bite), then marinated beef jerky, beef biltong, snap sticks, and droewors are some delicious red meat snack options. They are mess-free and easy to transport, making them the perfect road trip snack or post-gym body fuel. 
You could also toss some into a lunchbox as a quick way to add variety and some tasty nutrition. Or just tear up some biltong to add to a bland salad, sandwich, or a bowl of piping hot noodles for a protein and flavour boost. But while beef is such a versatile ingredient that's loaded with nutrients, it's best enjoyed as part of a diet consisting of whole foods and an active lifestyle.