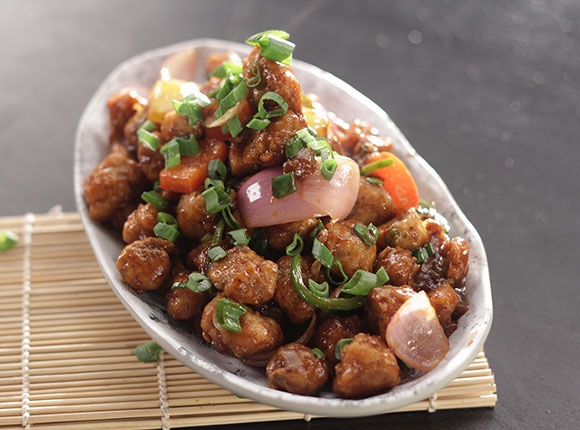 Soya Chunks Manchurian Recipe
This soya chunks Manchurian recipe will have a Chinese look and Indian taste. This is a very popular recipe and includes two stages of cooking. The first one is deep-frying and the second stage is tossing with Chinese sauces. Do you know that there are two versions of soya chunks Manchurian? One is dry and another one is gravy. This article will present to you the dry and juicy version of it. This recipe is usually done for party starters. It is also used as an appetizer. But most of the time, it is popular to be served as a side dish for fried rice or noodles. This snack is so good and healthy when compared to the other ones. The only reason is the protein power-packed soya chunks. It is very soft, chewy and also a crispy snack.
How to make Dry soya chunks Manchurian?
Initially, I will give some tips for making this recipe perfectly. No matter what, any dish will with soya chunks be soaked in water for half an hour at room temperature or it should be soaked in hot water for ten to fifteen minutes before making it ready to the dish. It is very important to wash off the soya chunks before using it into the main dish. The reason behind this is that soya contains a lot of protein in it. So it is highly recommended to wash it off well. The next step is to fry the soya chunks deeply until it becomes round and crisp. You can also shallow fry it or pan fry it. It can be hot served with sauce. This is the dry version of Soya Chunks Manchurian.
How to make the gravy soya chunks Manchurian?
You have to wash the soya well. Then you must drain the water completely before deep-frying them. But do not forget to squeeze the excess water before making any dish. You can also fry the soya chunks after giving it a coat with cornflour. This will make the process of cooking the dish fast and the soya will be crunchier than ever. There is one more option to fry the soya chunks. If you are worried about the excess oil intake, you can also roast them. You will just have to apply oil around them. You can add the deep roasted soya into the gravy. Leaving it for 2 minutes will make it soak the gravy well and become soggy.
If you are in the idea of making it for a party or your visiting relatives, keep both of them separately. Mix them just before the minute you want to serve. This will save the freshness and crispness of the soya chunks. It will help the Soya chunks Manchurian recipe to taste heavenly. You will need sauces to have them. You can increase it or decrease it as per the need and preference.
To mind you again, it is a very simple dish but still has an upper hand as it is completely healthy food.