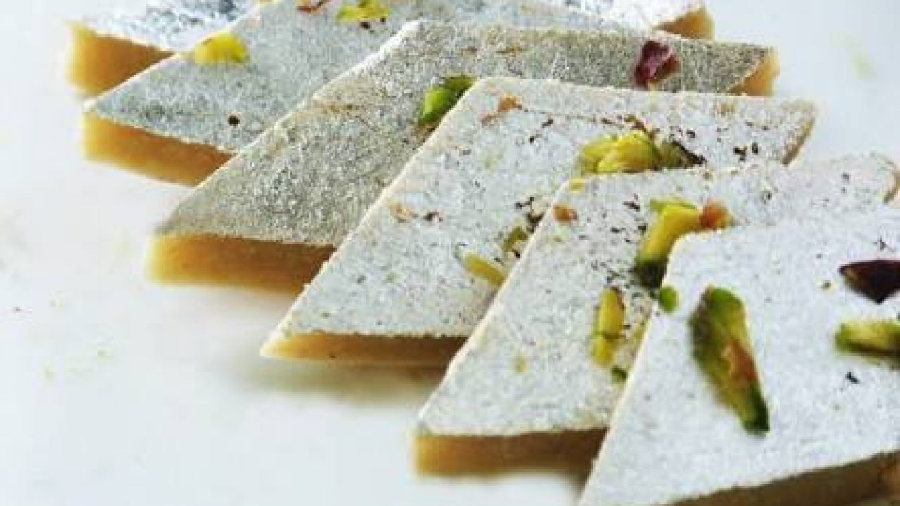 How to make tastiest and delicious kaju barfi
Kaju barfi is an Indian style sweet, and it makes children more excited. The taste of the sweet feels heaven in your mouth. The bite of delicious Kaju barfi melts in your mouth and makes you take another bite. The piece of cashew with sugar gives a barfi a magical feel, it has more demand in society. Even the kaju barfi price is more convenient for all kinds of people. If you are willing to prepare sweets in your home at festival times then Kaju barfi is the right choice and makes the occasion more memorable. It exhibits an excellent taste because of lower ghee content. A fuss-free, easy and simple barfi sweet with a handful of ingredients. Make your day special with kaju barfi and serve your guests at dinner parties. The preparation time of the sweet recipe takes 10 mins,
Ingredients to make Kaju barfi
¾ cups of Kaju
¾ cups of sugar
¾ cups of milk
2 teaspoons of Ghee
A greased plate for setting barfed in
Silver leaves for decoration
Preparation methods of Kaju barfi
Take a handful of cashews in a wide bowl and soak the cashews in water for about 30 minutes. By shrinking it in water it turns soft and tender after soaking. Add the soaked cashews into the grinder. At mixing time pour milk into the finely ground soaked cashews to get it in a paste form. While grinding add milk little by little. The paste consistency should be in the liquid batter. Transfer this into a pan
Put on sugar and start the cooking ion medium flame. The mixture becomes thicken as you cook, stir it for about 20-30 minutes and it comes together like dough. Take a small amount of mixture and check the consistency whether it holds a shape or not. If you find a correct mixture and switch it off. Keep the pan aside and put on 1 teaspoon of ghee. Stir the mixture well and again include one more teaspoon of ghee and continue mixing.
Now you could see a mixture in a stiff dough and transfer this into a tray and level it up. Allow the mixture to settle down for 1 to 2 hours. Then take the greased plate for setting and choose your favorite shape and mark the pieces. Scrumptious kaju barfi is ready to serve for special times.
Tips to be noted while cooking the kaju barfi
While mixing the cashews add the milk little by little. Make sure the consistency gets a dosa batter and you can use milk if needed. The sugar content should be equal to the number of ground cashews. When you take the mixture in your hand switch off the pan and keep the pan off the heat. Kaju barfi needs lower ghee content.
Kaju Barfi is liked by children and grown-up ones. This sweet is in demand because the tasty texture and kaju barfi price are affordable. Serve to your friends and family at gathering times.