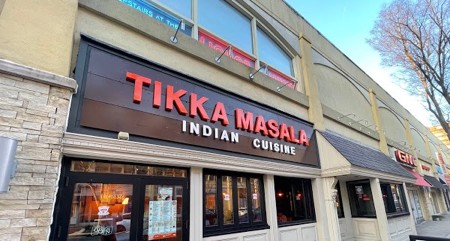 Tikka Masala, Bethesda now brings happy drink hours with their selection of Cocktails and "Tikkatinis".
Tikka Masala thrives in the art of defining flavours, the richness and diversity of the Indian Cuisine. It is the go to place for every Indian food connoisseur who visits Bethesda.
This Indian restaurant in Bethesda was established a few months ago in the city to bring to the table an authentic experience right from the Indian heartland. Over time, Tikka Masala has always strived to evolve its brand with experiments and delightful food transformations.
In continuation with this tradition, they are now pleased to introduce an elegant selection of alcoholic options in their drinks menu. Since time immemorial, alcohol has been the best side aid for enhancing the experience of eating. It helps in storage, absorption and an even faster metabolism.
Drink Selection at Tikka masala.
Careful consideration has gone into curating a list of available drinks that can appropriately compliment the customer's food options.
Red Wines
The restaurant offers Red Wines like Merlots, Noirs etc. which perfectly compliment bold and aromatic dishes that are a trademark of the Indian Cuisine.It is famous for being paired with beef and lamb roasts, for bringing out the robust flavours.
Here is a list of some red wines offered by Tikka Masala
Cabernet
Merlot
Alamos Malbec
Pinot Noir
Cabernet Sauvignon
Malbec….. among others
White Wines
Indian food is known to bring an explosion of flavours, which is why subtle and low alcohols like white wines are perfect to bring out the sweetness and carry the spiciness. Some of the most popular ones available are:
Kendall Jackson
Chardonnay
Sauvignon blanc
Pinot Grigio
Reisling etc.
Beers
A good old glass of beer can go well with anything; which is why Tikka masala brings a wide selection of options for beer lovers. The best thing about it?–The crisp bitterness will go well with all your curries, finger foods and even desserts.
Sam Adams Boston Lager
Miller Lite
Blue Moon
Corona
Heiniken
Shock Top White Belgium
Taj Mahal Premium Lager
..among others
Cocktails
Customers can also ask for the specialty cocktails from a very special selection list named after the Indian slang of a Drunk bar. These include:
The Tikkatini, which is an Indian twist on the good old Martini.
Painkiller, which can have any base ingredient of your choice.
The Lucknowi Mojito
Sher-e-Punjab as an ode to the classic Long island
Apart from those mentioned above, customers can also enjoy a host of other options, popularly called Patiala Drinks consisting of Whiskey, Brandy's etc.
For those people who are not very well acquainted with the workings of alcohol and food pairings, Tikka masala has mentioned a list of drink options that work well certain dishes. Wines are also a very good companion with chocolate based desserts, thus bringing the perfect end to your delightful evenings.