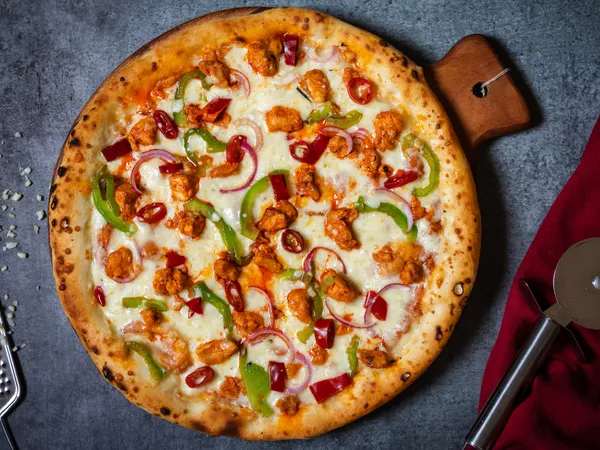 Peri-Peri Chicken Pizza Recipe
You can go right with pizza, whether you're searching for something quick or want to spend some time in the kitchen producing your masterpiece! It has a wide range of flavors and styles, is simple to prepare, and is delicious.
Pizza is a go-to quick and simple recipe for peri-peri chicken pizza. Any pizza dough recipe can be used, and it takes less than an hour to prepare. It's a fantastic way to utilize the chicken and vegetables you have left over. Although you can use any toppings you choose, we advise using mozzarella cheese and fresh basil. Additionally, gluten-free is this recipe for peri-peri chicken pizza. Test out this recipe and report back on the results! Try this dish for those evenings when you don't feel like cooking. Although simple and quick, the flavors are rich and delightful.
The peri-peri chicken recipe in pizza is a great way to use peri-peri sauce. The spicy chicken will give your pizza that kicks and make it more interesting than plain pepperoni. You can also add some onions and bell peppers for even more flavor. This recipe is great for using leftover chicken or turkey from the holidays.
Prep time: 15-20 min
Serve for: 1
Ingredients
Pizza dough:
-1 cup of heated water (110°F/45°C)
– 1 packet of active dry yeast
-1 tsp of white sugar
-1/2 cup bread flour
-2 teaspoons of olive oil
-1 tsp salt
Toppings:
-1 pound chicken breasts or thighs, cubed
-3 tablespoons olive oil, divided
-1 onion, chopped
-2 cloves garlic, minced
-1 red pepper, diced
-1/2 teaspoon salt
-1/2 teaspoon pepper
-1/4 teaspoon crushed red pepper flakes, optional
-2 cups tomato sauce
-1 cup water or chicken stock
-3 tablespoons fresh basil or oregano leaves
-1 teaspoon fresh thyme, minced
-Fresh basil leaves for garnish
-1/2 cup mozzarella cheese, shredded
Directions:
Step 1:
Set the oven to 425 degrees Fahrenheit or 220 degrees Celcius.
Step 2:
Put onion, garlic cloves, ginger, red capsicum, cumin seeds, bird's eye chilies, crushed black peppercorns, smoked paprika, sugar, and salt in a blender jar to prepare peri-peri sauce.
Add 12 lemons worth of lemon juice along with some lemon zest.
Blend in the parsley sprigs and red-dried chilies to create a smooth paste.
Step3:
Add two tablespoons of peri-peri sauce, two tablespoons of oil, and the chicken to a bowl.
Step 4:
The remaining olive oil should be heated in a nonstick grill pan.
Add the chicken there, and cook it over high heat, turning it over halfway through, until grill marks show on both sides.
Once the food is cooked through, the heat should be reduced.
Chicken should be sliced, then chopped into cubes measuring 1/2 inch.
Step 5:
Add the remaining tablespoon of olive oil to the pan and saute the onion and garlic for 2 minutes. Then add red pepper and seasonings,
Add tomato sauce, water or chicken stock, basil or oregano, and thyme after cooking for a further minute or until tender.
Add chicken to this mixture and cook the chicken for one more minute.
Remove the chicken mixture from the heat and reserve.
Step 6:
Preheat the oven to 450 degrees Fahrenheit/ 230 degrees C.
Grease a pizza pan sparingly.
Add yeast and sugar to a dish of warm water. Ten minutes or so after mixing, let stand until creamy.
Step 7:
When adding flour, oil, and salt, beat the yeast mixture until it is smooth. This can be done by hand or more easily with a stand mixer with a dough hook. Let stand for five minutes.
Roll or pat the dough into a 12-inch circle after turning it onto a lightly dusted surface. Place on the pizza pan that has been prepped.
Step 8:
The dough is covered with tomato sauce and High On Chicken peri-peri sauce.
Chicken and mozzarella cheese are then added.
Bake in a preheated oven for 20 minutes or until golden brown.
Serve immediately with peri-peri sauce, parmesan cheese, and fresh basil if available.
Occasions when you can make a peri-peri chicken pizza
What should you cook for your visiting family during Christmas? You're throwing a party. Or all you want to do is cook something great! This simple and easy peri-peri chicken pizza recipe will wow your visitors. Additionally, it is quite adaptable; you can top it as you wish or leave it simple if you like. It is a season to spend with loved ones, make new ones, and eat delicious cuisine. Peri-peri chicken pizza is a great option if you're looking for a holiday recipe! It is simple to cook and can feed a large group if you have adequate oven space. Serve it with some french fries, or the peri-peri chicken recipe will go perfectly with the pizza. Everyone at the table will love it whether you serve it as an appetizer or a main course!
Frequently Asked Questions (FAQs)
What is on a peri-peri chicken pizza?
A highly flavorful medium-crust pizza with a cheese-filled peri-peri sauce, succulent peri-peri chicken chunks, and loads of mozzarella.
Is peri-peri sauce good on pizza?
Peri peri sauce may be familiar to you from Portuguese chicken, but you can also use it over pizza. The spicy African counterpart of Portuguese Piri-Piri sauce is called peri-peri and is frequently used in African cooking. It contains ginger, paprika, and other spices, including garlic and capsicum. For additional tang, some versions also contain lemon juice. Pizza is best when topped with peri-peri sauce. Your taste senses will dance with delight as a result of the addition of the sweet and spicy kick! It can also act as the basis for other dishes, such as Peri Peri Chicken Burgers or the peri-peri chicken recipe.