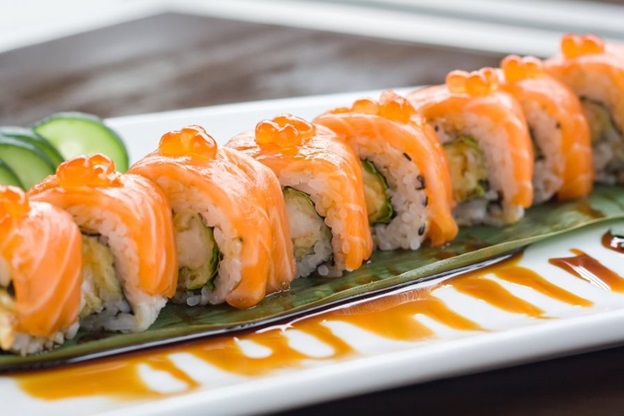 Often containing raw fish, rice, seaweed and avocado, sushi makes for a healthy, tasty and beautiful meal. These are a few of the most popular rolls.
California Roll
This dish is made of crab, avocado and cucumber rolled in seaweed and rice. Anyone that loves good sushi in Haleiwa HI has tried this well-known meal.
Rainbow Roll
Named for its brightly-colored toppings of tuna, salmon, shrimp and yellowtail, the rainbow roll is perfect for sharing pictures of your delicious dish. The internal ingredients are crab, avocado and cucumber, just like the California roll.
King Crab Roll
This one is perfect for crab lovers. It is stuffed with king crab, rolled in seaweed and white rice, and drizzled with spicy mayonnaise that adds the perfect amount of heat.
Cucumber Roll
The cucumber roll is filled only with cucumber, making it a great choice for vegetarians or those that don't like raw fish or crab.
Alaska Roll
This popular meal is made of smoked salmon, avocado, cucumber and sometimes asparagus. Anyone that likes salmon will love this classic roll.
Shrimp Tempura Roll
If you like a little crunch in your sushi, this one is for you. Its combination of shrimp tempura, avocado and eel sauce makes for an incredible mix of textures and flavors.
Spicy Tuna Roll
This simple roll is perfect for beginners. Its use of tuna makes it an instant classic, and the addition of spicy mayo gives it a little kick that will keep you coming back for more.
Dragon Roll
Feeling adventurous? This one is made of crab, cucumber and eel sauce, but the eel on top really steals the show. Not only will it taste delicious, but you'll get to tell all your friends you tried eating eel.
With so many varieties and flavors, sushi is the perfect dish for everyone. Whether you want to stick with the simple cucumber roll or brave the dragon roll, there's bound to be a roll for you.