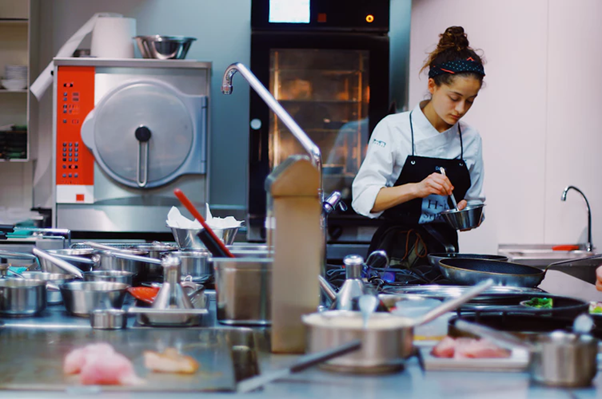 How to Prepare For a Temporary Role as a Chef in the Kitchen
If you're a chef, then the chances are that you'll have spent at least some of your career as a temporary chef, travelling locally or nationally for new and exciting roles. Temporary positions are often higher paid and offer some perks such as free accommodation and food, but as the title suggests, they're temporary and can last from a couple of weeks to a couple of months.
If you're about to start your first temporary role as a chef, fear not: below, we've rounded up some tips and tricks on how to prepare so you can make a great first impression…
Speak to your agency
Unless you found your temporary position online, it's likely you're registered with a temping agency that specialises in catering staff recruitment. Once you've confirmed your start date, speak with the agency to ask about the role, whether there's anything you need to know, and any key information such as where you'll be staying, your shifts, and your pay schedule. The more details you have to hand, the easier it'll be for you to get to work and fit right in quickly.
Read about the business
Spend an hour or so researching into the business online and, if it's local, you could even pop in for a bite to eat to see where you'll be working. We're not saying that you need to go full-on Alex Polizzi in The Hotel Inspector, but familiarising yourself with your surroundings will make your first day much easier. If you're only contracted for six weeks but want them to keep you on for another six months, then every second counts. Put in the leg-work ASAP.
Buy new tools
Most temporary chef positions require you to bring your own whites and knives, so if yours are a little worse for wear then consider upgrading. It's an expense any good chef has to think about before they enter the kitchen, but having the right tools for the jobs will both give you more confidence in your ability, and make life easier when it comes to preparing food.
Don't think that you need to spend hundreds of pounds on expensive equipment, either – ask your friends and shop around – you can often find fantastic deals on knives and uniforms.
Brief your family
Finally, if you're going to be moving away from home temporarily, then brief your family and let them know exactly what to expect. If you're scheduled to work every evening from 5 pm to midnight, then arrange to FaceTime your loved ones in the afternoon or at breakfast so you can keep up to date on what's going on, and schedule a day or two per week where you can go home to catch up. It may seem strange to work away from home at first, but once you are earning money and you build a rapport with your new kitchen team, you'll get used to it.
Working as a temporary chef can be challenging but certainly not impossible. Preparation is key, so do your research and show up to the job with the right tools and attitude, and you'll do well. Whatever you've got planned in the coming months, we wish you the best of luck…